The world of Marvel has been something of a behemoth for decades now but with the advent of the , the popularity of the various comic characters that make up the likes of the Avengers have exploded in ways that few could ever have imagined. While most people will know heroes such as Thor, Iron Man, and Captain America from comic books or live-action movies, there are a lot of other adaptations out there that provide viewers with even more ways to experience these characters.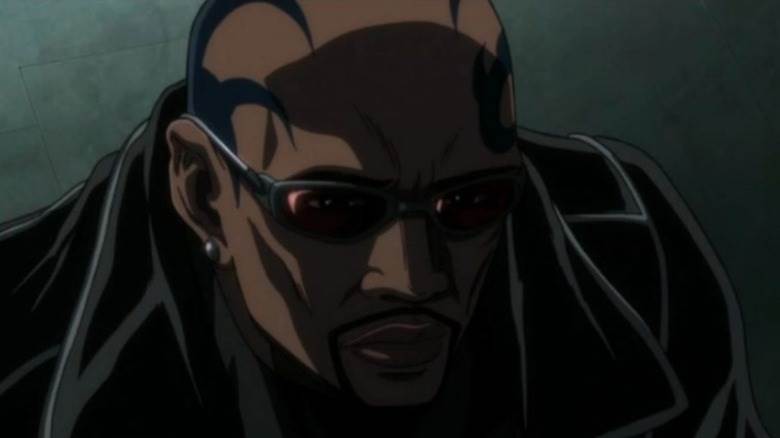 It shouldn't come as much of a surprise, then, that along with countless cartoons, animated films, and video games, there have even been some attempts to create successful anime series in Japan based on Marvel properties. While none of them would be ranked as some of the , there are still some rather interesting anime releases that fans of the genre will want to check out — as well as some that the audience might not even know exist.
Blade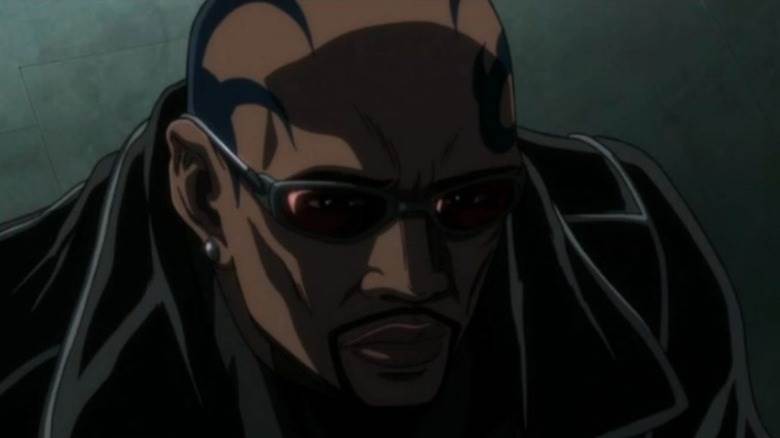 "Blade" is one of the four main anime series that were created as part of a joint venture between Marvel Entertainment and Madhouse — a Japanese animation studio that has worked on series such as "One-Punch Man," "Vampire Hunter," and "Wicket City." Guided by Warren Ellis, the series was written by Kenta Fukasaku and directed by Mitsuyuki Masuhara (via ). Airing on G4 in the United States and Animax in Japan for its 12-episode run, it was part of a four-series project that Marvel International president would "create an entire parallel universe for Marvel."
Japanese actor Akio Ohtsuka took on the role of Blade in the anime, with Harold Perrineau voicing the English dub. Other actors included Tsutomu Isobe and Maaya Sakamoto. The story follows the plots of the original comics as well as the "Blade" films — it sees Blade hunting down Deacon Frost, the vampire who is responsible for killing his mother — and battling against a secretive group known as the Existence.
The reception for "Blade" was not particularly effusive. criticized the character design and the way that the show did little to set itself apart from the source material. The outlet's review also had problems with the writing, saying, "At its best, it's merely passable. At its worst, it's just plain horrible." Meanwhile, was equally damning, stating that the show is "a dull anime and a squandered opportunity with the comic lore."
Dracula: Sovereign of the Damned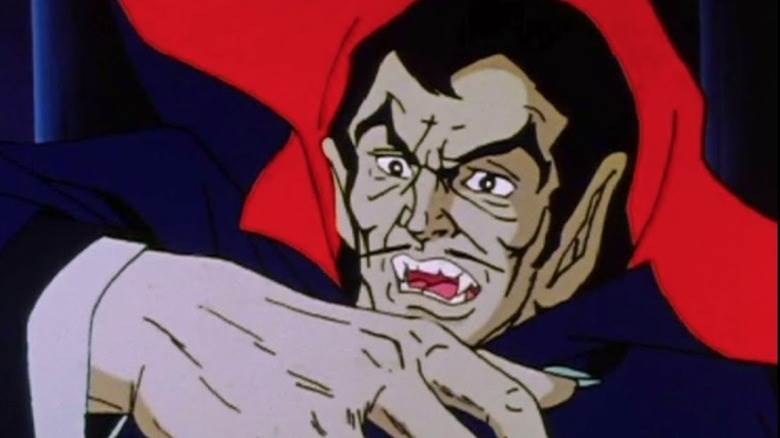 "Dracula: Sovereign of the Damned" is a 1980 made-for-television anime movie based on the Marvel Comics horror series "The Tomb of Dracula." First published in early 1970s, the series follows a collection of vampire hunters that battle against a wide array of threats, including the titular Dracula. The comics established Count Dracula as a villain who would go on to be an enemy of several other heroes, including Blade, Spider-Man, and even Howard the Duck.
Created as part of an ill-fated deal with Toei Animation in 1980, the series follows Dracula as he steals Lucifer's bride and tries to wed her himself (via ). The fact that it runs to just 94 minutes means that the adaptation had to jettison a large number of characters, stories, and other elements that left it a rather threadbare version of what comic readers had experienced.
The anime movie — which featured a cast that included Kenji Utsumi of "Sally the Witch" and "Dragon Ball" fame as Dracula, along with Hiroko Suzuki, and Kazuyuki Sogabe — had a limited release and is one of the rarest Marvel adaptations in existence. According to , the film is hardly worth watching, with its confusing plot and inappropriate themes for a release made primarily for children. In that respect, those who haven't been able to see "Dracula: Sovereign of the Damned" don't seem to be missing out on much.
The Monster of Frankenstein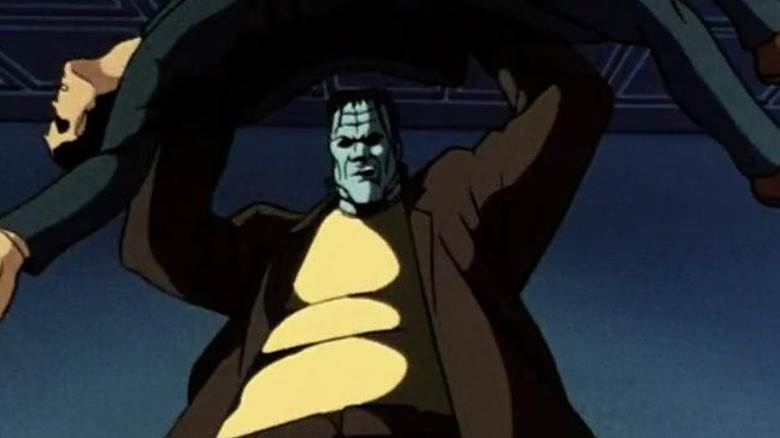 Known as "Kyoufu Densetsu Kaiki! Frankenstein" in Japan, "The Monster of Frankenstein" is an animated film that came to television screens in 1981 on the TV Asahi network. Like its predecessor "Dracula: Sovereign of the Damned," it was part of a collaboration between the comic giant and the acclaimed studio Toei Animation. As you might have guessed from the name, the film is based on Frankenstein's monster, a character with quite a rich history in .
Based on Mary Shelley's character from her 1818 novel, the Marvel version of the character first appeared in 1953. Despite his superhuman strength and durability, the creature generally doesn't choose a life of violence and instead wants to live peacefully (via ). This is largely what happens in "The Monster of Frankenstein." After being brought to life by Victor Frankenstein, a series of events cause death and chaos in the local area, although the Monster is largely faultless. Coming to the conclusion that his presence will only cause more problems and not wanting to live a life that he has no control of, the character throws himself to his death.
Darker and more focused toward adults than its predecessor, it was a better received release. The movie holds a 2.7 rating on and has a plot that is easier to follow as it tells a more coherent narrative. However, again noted that it suffered with a number of issues, from poor animation, unimpressive voice acting, and boring action sequences.
Iron Man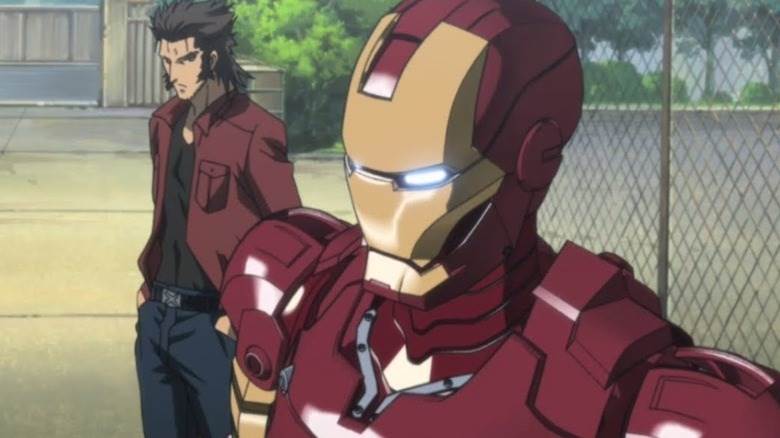 "Iron Man" was the first anime series from Madhouse and Marvel. Directed by Yūzō Satō, it was first shown on Animax and later aired on G4 in 2011. Keiji Fujiwara, who is best known for playing Hiroshi Nohara in "Crayon Shin-chan" and Maes Hughes in "Fullmetal Alchemist," played Tony Stark in the anime — a role that he had dubbed in Japan for many years before his death in 2020 (via ). regular Adrian Pasdar provided the English dub of the character, while Hiroaki Hirata, Takako Honda, and Hiroe Oka round out the rest of the cast.
The story largely follows a trip that Tony Stark takes to the Asian country to set up a new power station and debut an experimental armor that will eventually take over for him (via ). The Iron Man Dio is an impressive prototype but soon malfunctions and goes on a rampage that Iron Man must put a stop to. Along the way, he uncovers a conspiracy headed by a longtime friend of Stark who was previously thought dead.
was more impressed with "Iron Man" compared to the other Marvel Anime shows, feeling that it was a more faithful adaptation and concentrates on a smaller cast of core characters. This allowed for a more organized narrative and proper character development. However, it still had some problems, with the site stating that it "is much better than the X-Men Anime, but it's still not a perfect melding of the two mediums — comic books and anime."
Wolverine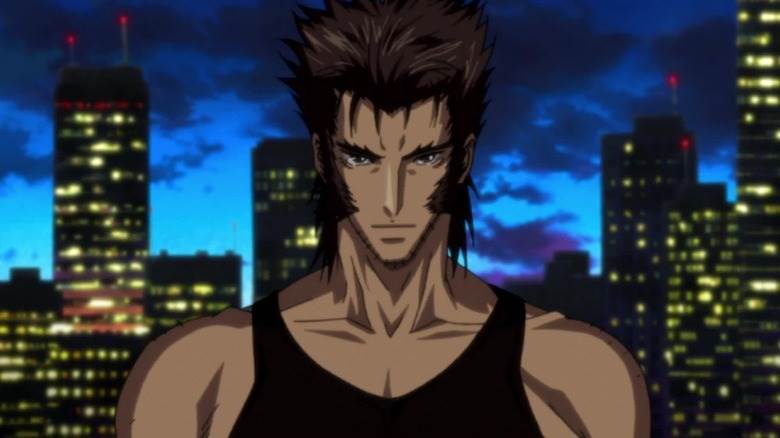 Wolverine appears in every single Marvel Anime series, as a major part of "X-Men" and in minor roles for both "Iron Man" and "Blade." This was the second series that was developed as part of the project and featured Logan in a main role. It was directed by , who had previously led "Rocket Girls" and more recently has worked on "Overlord" and "My Stepmom's Daughter Is My Ex" as a storyboard artist. "Garo" screenwriter was responsible for the script with Warren Ellis again providing story guidance.
Actor Rikiya Koyama reprised his role as Wolverine for the anime. He is little known outside of Japan but is the official dub-over artist for a variety of actors in the country, including Dwayne Johnson, George Clooney, and Keanu Reeves (via ). Fumiko Orikasa, Hidekatsu Shibata, and Romi Park make up the rest of the cast. The plot follows the hero as he travels to Japan to rescue his love interest who has been forcibly taken to the country by her father, a notorious leader of a criminal organization.
Like with many of the other Marvel Anime releases, "Wolverine" received largely negative reviews. criticized everything from the English dub to the unfocused plot, as well as somewhat limited animation style. Meanwhile, noted how the design of Wolverine was very unlike how he is depicted in the comics, saying, "If you're a Wolverine fan, you will be filled with hot comic-nerd rage because of what they've done to the character."
X-Men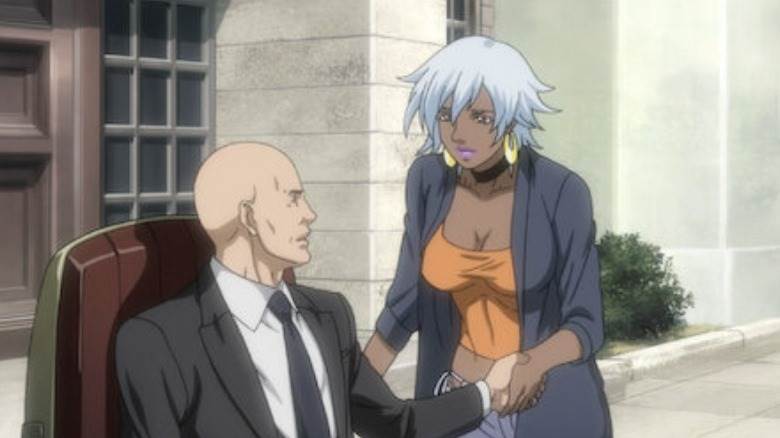 Starting its original run in April of 2011, "X-Men" is a Fuminori Kizaki directed series that was part of the collaboration between Madhouse and Marvel Comics. The director, who has worked on films such as "Afro Samurai: Resurrection" and "Human Lost," teamed up with "Pretty Cure" writer Mitsutaka Hirota. The cast was made up of Toshiyuki Morikawa ("Naruto: Shippuden" and "JoJo's Bizarre Adventure: Diamond Is Unbreakable") as Cyclops, Rikiya Koyama ("Case Closed" and "Bleach") as Wolverine, Atsushi Abe ("A Certain Magical Index") as Takeo Sasaki, and Katsunosuke Hori ("Paprika" and "Blue Gender: The Warrior)) as Professor X.
The action revolves around the aftermath of the death of Jean Grey after she transformed into Dark Phoenix. The X-Men journey to Japan to confront the Inner Circle while also battling the U-Men, a group abducting young mutants so they can harvest their organs. At the same time, the group encounters a group of mutants in the country who suffer from a condition known as Damon Hall Syndrome.
praised the way that "X-Men" made changes to Wolverine, making the character more consistent with the design that fans have come to expect for the hero. also came away with a positive impression, noting that "the show is beautifully drawn with good attention to detail." Reviewers also note how it gave a more accurate portrayal of character such as Cyclops.
Marvel Disk Wars: The Avengers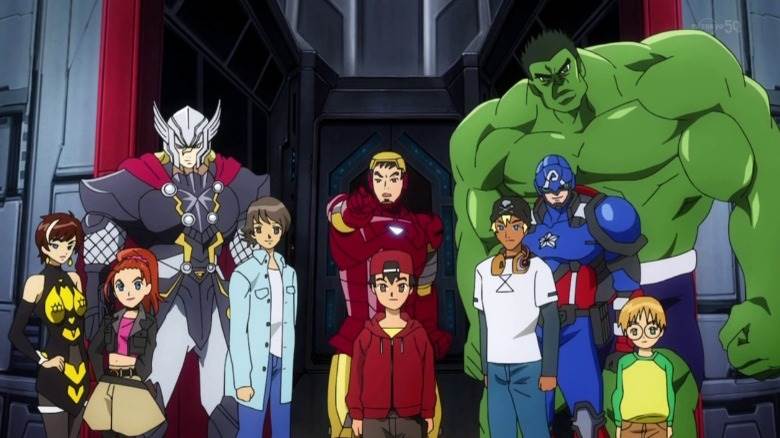 First announced in 2013, "Marvel Disk Wars: The Avengers" is an anime series that was part of a joint effort between Marvel Comics, The Walt Disney Company Japan, and famed animation studio Toei Animation (via ). An attempt to push characters from the comics in Japan to increase their popularity in Asian markets, the deal also came with a largely merchandising campaign spearheaded by Bandai. Broadcast on the TX Network, it was directed by Toshiaki Komura ("Genji Tsûshin Agedama") and written by King Ryû ("Dragon Ball Super").
The story sees the Avengers, made up of the likes of Iron Man, Captain America, Hulk, and Thor, trapped inside a new type of equipment known as DISKs by Loki. The villain then releases all the imprisoned individuals on the Raft, allowing them to cause havoc while the heroes are unable to escape from the DISKs. A group of young children take control of the devices and in partnership with the Avengers, are able to release the heroes for short amounts of time to battle their opponents.
Although it only ran for a year, "Marvel Disk Wars: The Avengers" had a total of 51 episodes, making it one of the longest anime based on the famous comic characters. This gave it the chance to tell a more satisfying story and develop characters over the space of many episodes. felt it was something of a hidden gem, with outstanding animation and an original plot that sets it apart from most other Marvel projects.
Marvel Future Avengers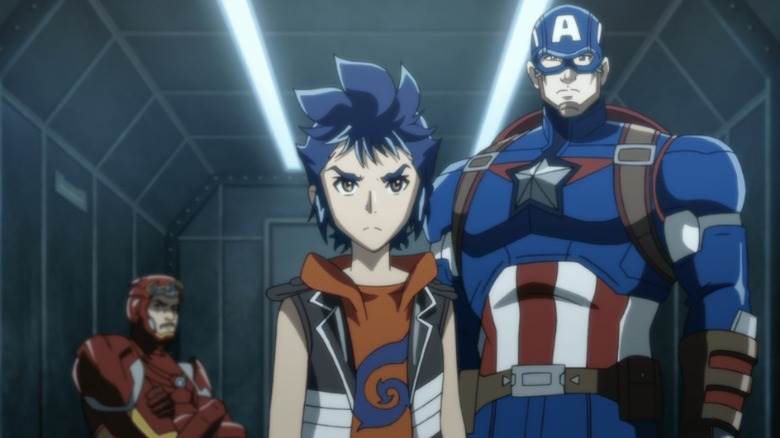 King Ryû, who was responsible for writing "Marvel Disk Wars: The Avengers," returned to the world of the Avengers once again in 2017. He was joined by another former Marvel collaborator in the form of Yûzô Satô, the director who had previously worked on "Iron Man" for the Marvel Anime project. Broadcast on the Dlife network in Japan and Disney XD in the United States, it ran for two seasons made up of 13 episodes in total and, according to , the series also spawned a manga release.
Much of the story revolves around three children — Makoto, Adi, and Chloe — who have superhuman powers having been genetically modified and trained by HYDRA (via ). The organization has planned for the kids to become new weapons that they can use to fight against the Avengers and brainwashes them to believe they are the true heroes. However, Makoto, Adi, and Chloe soon learn the truth and join forces with the superhero team to battle against HYDRA, becoming known as the Future Avengers by the likes of Iron Man.
Unlike some of the Marvel Anime releases, "Marvel Future Avengers" received a largely warm reception from critics.  says that it "is a fun show and very interesting for Marvel fans looking for a fresh new story" while also acknowledging that it had some noticeable limitations that some fans would not enjoy.
Iron Man: Rise of Technovore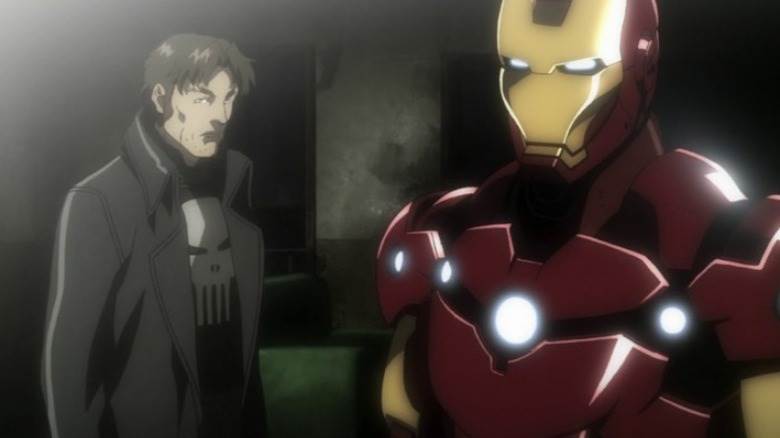 Hiroshi Hamasaki, best known for his work on the likes of "Shigurui: Death Frenzy," took on directing duties for "Iron Man: Rise of Technovore." The 2013 anime film was another release that was produced in collaboration with Madhouse and featured a cast of Keiji Fujiwara, Tesshô Genda, and Miyu Irino, along with an English voice dub consisting of Matthew Mercer and Norman Reedus in the two lead roles.
"Teenage Mutant Ninja Turtles" and "Star Wars: Resistance" producer Brandon Auman developed the story, which sees Iron Man attempting to prevent A.I.M. from supplying weapons to a new mysterious enemy known as Ezekiel Stane. He teams up with Punisher and has to fight off a pursuit by Hawkeye and and is eventually able to strike a decisive victory against Stane with the help of the previously thought dead War Machine.
As is the case with many other anime releases based on Marvel properties, "Iron Man: Rise of Technovore" was not a great success story. It certainly received a better reception than some other series but failed to really capture the imagination of viewers. felt that many Marvel fans might find enough to enjoy the film but that dedicated anime viewers "on the other hand, might not be quite so galvanized." Meanwhile, says, "I wish this story was executed in a better fashion but I do still have hopes to see more."
Avengers Confidential: Black Widow & Punisher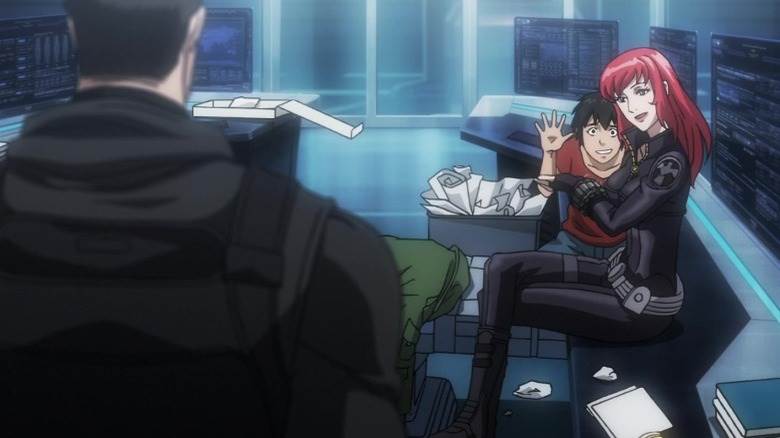 Released in 2014, "Avengers Confidential: Black Widow & Punisher" is another anime film that came from Marvel Entertainment and Madhouse. A spin-off sequel to the Marvel Anime project, it was directed by Kenichi Shimizu and written by Mitsutaka Hirota, who has also worked on screenplays for "Edens Zero" and "Bayonetta: Bloody Fate." Experienced voice actors Miyuki Sawashiro and Tesshō Genda took on the lead roles of Black Widow and Punisher, with Jennifer Carpenter and Brian Bloom providing the English dubs for both heroes.
The story is based on a concept developed by author Marjorie Liu, who has previously worked on comics such as "Dark Wolverine." It sees the pair of comic heroes setting out on a mission to stop an evil terrorist organization known as Leviathan from successfully selling high-tech S.H.I.E.L.D. devices on the black market. The likes of Hulk, Hawkeye, Iron Man, Thor, War Machine, Amadeus, and Captain Marvel also take part in the struggle.
"Avengers Confidential: Black Widow & Punisher" is one of the better Marvel anime releases, with confirming that it is "a well-crafted character study of its title characters that delivers some spectacular action to boot." Other reviewers praised the action sequences, well-crafted animations, and intense fight scenes, with noting that it contains "a bunch of well-animated fight scenes or you want to see a strong animated depiction of Frank Castle that's allowed to stab people in the face."