12 Hilarious Sitcoms Like Big Mouth You Should Watch Next - Looper
is a long-running Netflix animation that stars co-creator Nick Kroll as enthused perv Nick (and Coach Steve, and a pile of other characters), Jon Mulaney as neurotic and always surprising Andrew, Jason Mantzoukas as the oversexed Jay, Maya Rudolph as Hormone Monstress Connie, and who replaced Jenny Slate as the intense Missy in Season 4. 
For a show with such a seemingly niche appeal to go on for five seasons is practically unheard of in today's crowded streaming environment— but of course, how niche can "Big Mouth" really be once you get past its more provocative elements? It's about more-or-less the same bodies and childhoods we've all experienced having, and you can't get more universal than that. Hormone Monsters, Depression Kitties, Shame Wizards and more await us when we visit the technicolor world of "Big Mouth." Duke Ellington's Ghost can team up with that of Socrates and Antonin Scalia to regale you with stories of past sexual conquest while a gross monster inspires ever-greater acts of depravity. 
We obviously don't all have the same adolescence, but we all have adolescence. It's this shared ground that makes "Big Mouth" work. Touching and scandalous, earthy and real, the show's attempts to describe both the highs and lows of growing up can yank on your heartstrings, often without any warning at all. It's the work of comedians at the top of their craft, and there aren't a lot of shows that can compare. If you're itching for more "Big Mouth," though, here are some shows that might flip a few of the same switches in your brain.
It's Always Sunny in Philadelphia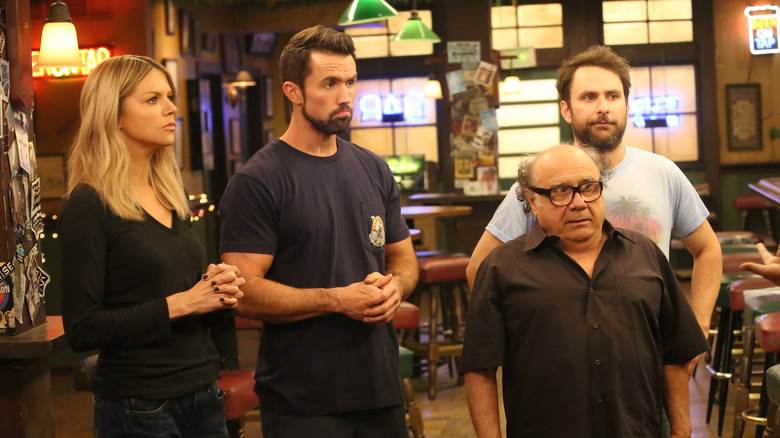 The scumbag leads of "It's Always Sunny in Philadelphia" have a few things in common with the children of "Big Mouth," such as their preoccupation with sex and predilection to get into awkward situations, but that's not why you'll want to watch it. "It's Always Sunny in Philadelphia" has earned its place as the and shows no signs of slowing down. While we're used to the frankness of "Big Mouth" giving us second-hand embarrassment on occasion, the exploits of The Gang are a great funhouse mirror for us to look into and see a hilarious version of humanity's worst impulses.  
While the characters of "Big Mouth" are united in the fact that they're always striving for better, The Gang from "It's Always Sunny in Philadelphia" tend to race to the bottom. But the real trick is the way the show somehow makes us care about Frank, Sweet Dee, Dennis, Mac, and Charlie. 
Bonus suggestion — Fox's "The Mick" takes the grossout hilarity and low-key brilliance of "It's Always Sunny in Philadelphia" into new territories thanks to star Kaitlin Olson, who is married in real life to "It's Always Sunny in Philadelphia" and "Mythic Quest" co-creator and star Rob McElhenney.
Bojack Horseman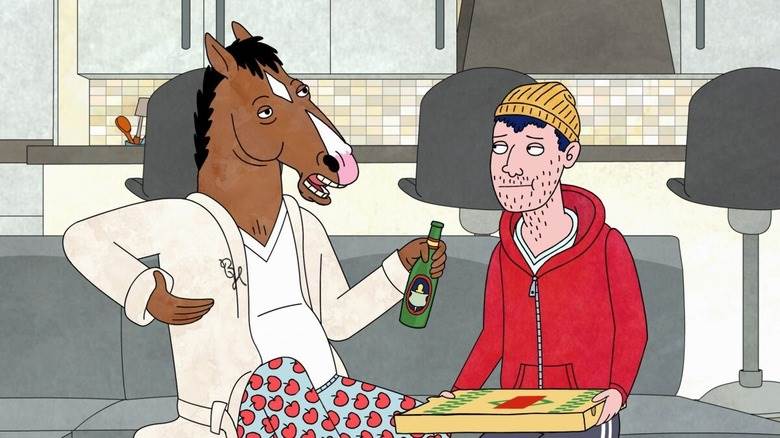 is to Netflix what "The Simpsons" is to early Fox — an adult comedic animated series that rockets its network up the charts and helps define a new era of television. In this case, what "Bojack Horseman" adds to the adult-animation mix is a truckload of pathos. Known for being as heartbreaking as it is hilarious, "Bojack Horseman" tells the story of an aging sitcom star who tends to ruin everything he touches. He's surrounded by friends, agents, frenemies, and even a biographer as he attempts (and most often fails) to reconcile his traumas with living a healthy, sober, somewhat well-adjusted adult life. 
While Bojack's never-ending downward spiral can be a tough watch at times, it includes plenty of the reminders of our shared humanity that "Big Mouth" does so well. Bojack's housemate Todd Chavez's asexuality is treated with as much respect as anything that happens on "Big Mouth," which deals with issues pertaining to bodies and sexuality with nuance and the necessary degree of seriousness. And while the average age of the characters on "Big Mouth" is, obviously, much younger than those of the middle-aged "Bojack Horseman" cast, they share a certain psychological obliviousness that provides grist for the story to teach them, and us, about the emotional truths that lie beneath all the nervous giggles and dirty jokes.
Freaks and Geeks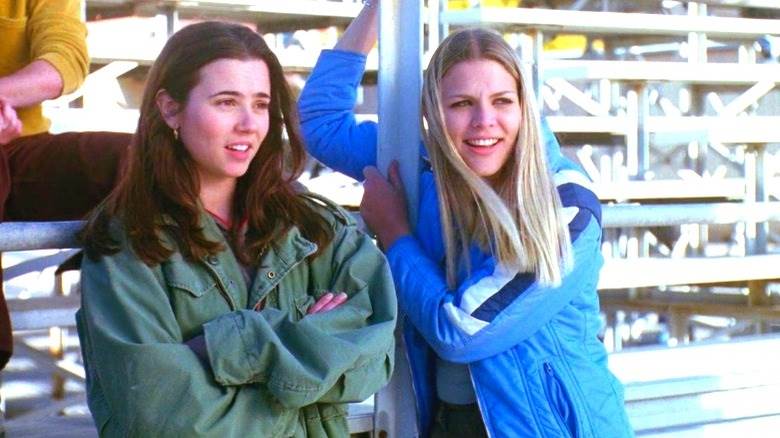 "Freaks and Geeks" takes the inherent weirdness of teenagerhood that we get to explore in "Big Mouth" and transports it to 1980. While the show was a bit shocking for the time period — from 1999 to 2000 on NBC — it's much tamer than "Big Mouth" while still getting at the beating heart of adolescence in much the same way. The kids on "Freaks and Geeks" fall in and out of love, come up against adults both cool and uncool, and generally make messes of themselves as they figure it all out. The show's known for introducing many major stars — Seth Rogen, Jason Segel, Busy Philipps, and Linda Cardellini, to name a few — and seeing such megawatt talents at such a young age makes for its own set of delights.
What "Freaks and Geeks" shares with "Big Mouth," "Bob's Burgers," and a few other shows on this list is a warmth and kindness behind the humor that makes even the most surprising twist or turn of phrase seem wholesome. If you ever wondered what the students of "Big Mouth" would be like in high school, it's safe to assume that some of them will eventually become geeks, while they will definitely all become freaks.
Never Have I Ever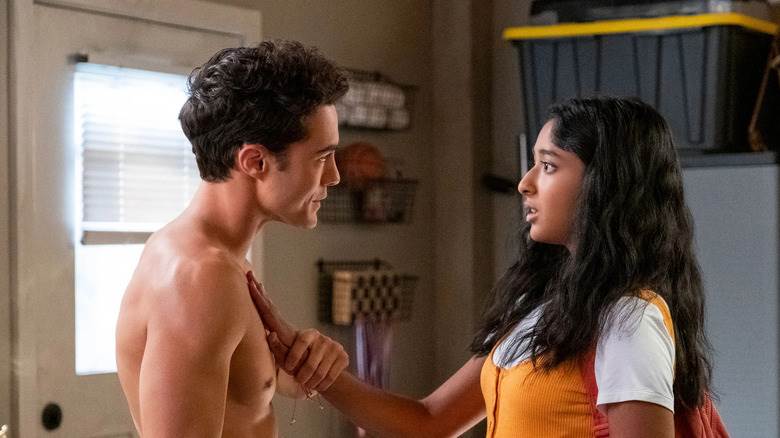 The lead character of Netflix's "Never Have I Ever," Devi Vishwakumar, wouldn't be out of place at the school the kids of "Big Mouth" attend. When we meet her, she's mourning her father and dealing with the psychosomatic effect is his death is having on her. As she heals and steps back out into the harsh light of day, it's her romantic ordeals that take up most of her time, just like the later seasons of "Big Mouth." Romantic triangles, loves both doomed and reciprocated, and classic rom-com tropes abound, all spun in a new and interesting ways by Devi's journey.
"Never Have I Ever" was created by Mindy Kaling with "Brooklyn Nine-Nine" writer Lang Fisher. Kaling, of course, was one of the writers and stars of "The Office" before starting her own shows: "The Mindy Project," "Never Have I Ever," and current HBO Max smash "The Sex Lives of College Girls." While much of Kaling's output seems loosely based on her own biographical details, "Never Have I Ever" is the only one of them to take a serious look at the triumphs and tragedies of teenhood.
Bob's Burgers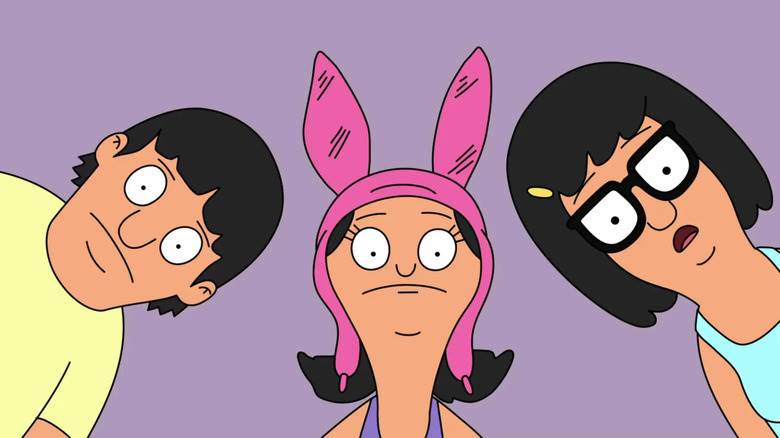 Like "It's Always Sunny in Philadelphia," "Bob's Burgers" is another example of what we might call one of the new classics. In this case, it's an adult animation show that hides its still-delicious shocks in a warm family-friendly environment. And while the family dynamics are most often what's in play, we can't ignore the thematic connections between the two shows. A huge part of "Bob's Burgers" is the pubescent miseries and glories of Tina (Dan Mintz), the eldest Belcher child, as well as clues to the queer future of brother Gene (Eugene Mirman). 
Both of these kids wouldn't be out of place on "Big Mouth," as curious and body-fascinated as they are. Whereas Gene seems to still be in his toilet-humor phase a lot of the time, Tina's mind is a non-stop fever dream of dating, kissing, buttocks, zombies, horses, and writing about fictional characters and her friends ("erotic friend fiction," as she terms it). Like the her better nature is often overwhelmed by the sheer force of her hormonal adolescence — but just like them, there is a sweetness to her human core that makes it less cringy and more relatable.
Kroll Show
If you enjoy both the humor and the grossness of "Big Mouth," you'll love "Kroll Show," one of "Big Mouth" creator Nick Kroll's other significant projects. Playing characters you'll never forget, Kroll's rolling cadre of comic talents might seem familiar. A lot of them are also on "Big Mouth," and "Kroll Show" even includes some early versions of the characters and jokes that "Big Mouth" runs with. 
"Kroll Show" ran for three seasons, from 2013 to 2015 and includes a recurring sketch that expresses a rather harsh viewpoint on Canadian teen dramas like "Degrassi High." That running satire showcase a lot of the humor that will come to define "Big Mouth." But like "Big Mouth," "Kroll Show" sometimes betrays the bleeding heart beneath its take-no-prisoners comedy. You'll laugh at Bobby Bottleservice, for example, right up until the episode when he makes you cry. Kroll and Jenny Slate also play a pair of public relations flacks, both named Liz, that you can see laying the foundation for the grotesque and delightfully sociopathic Lola Skumpy of "Big Mouth." And Aspen and Wendy (Jon Daly) of the recurring "Rich Dicks" sketch, wouldn't be out of place on "Big Mouth" either.
Hilarious and often piercing in its insights, "Kroll Show" is sketch comedy at its best. And the best part is that just like the show itself, individual sketches don't overstay their welcome.
Tuca and Bertie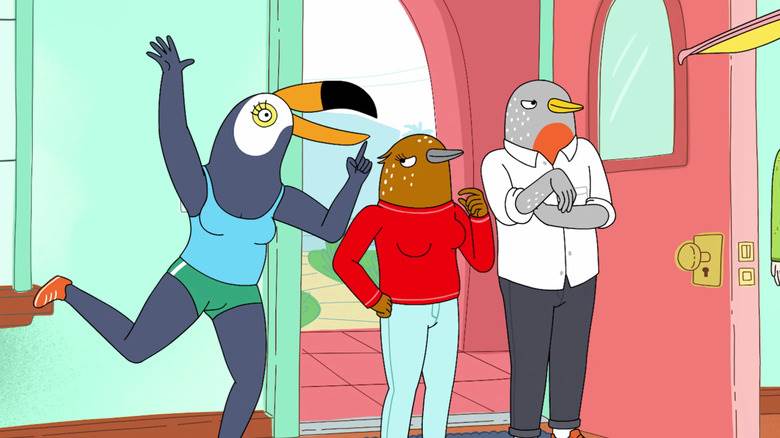 "Tuca and Bertie," created by "Bojack Horseman" cartoonist Lisa Hanawalt, is a sweet and tender balm for the soul. The opposite of "Bojack Horseman" in a lot of ways, "Tuca and Bertie" is a lighthearted and gentle exploration of dating, working, friendship, and basically all the other life stuff. Starring Tiffany Haddish and Ali Wong, the show was after a single season before moving to Adult Swim on the Cartoon Network in 2020. The show also features actors Steven Yeun — from "The Walking Dead" and "Nope" — as a love interest, and the masterfully hilarious John Early from "Search Party" as the dapper dog next door. 
Roommates Tuca, an anthropomorphic toucan, and Bertie, a song thrush, navigate adulthood in a fresh and unique way, often barreling past its insights on the way from joke to joke. But there's a lot to think about here, and the show knows it. "Tuca and Bertie" is also known for Hanawalt's art style, which fans will recognize from "Bojack Horseman." Hanawalt has been romantically linked long-term with Adam Conover, of "Adam Ruins Everything," and she has a delightful podcast, "Baby Geniuses," with "Barry" writer and performer Emily Heller.
Archer
H. Jon Benjamin is everywhere on this list, of course, but everywhere on TV, too. His famous voice roles include the titular head of the Belcher clan on "Bob's Burgers," Jason and Coach McGuirk in "Home Movies," and slacker son Ben in "Dr. Katz, Professional Therapist." But he is perhaps best known as Archer in "Archer" — another name on that shortlist of long-running, still-surprising comedies like "It's Always Sunny in Philadelphia" that have truly earned their longevity. "Archer" also stars Aisha Tyler and Judy Greer, as well as Jessica Walter (RIP) from "Arrested Development."
Satirizing office culture in a Cold War that never ended, the show has not been afraid to reinvent itself; entire seasons have been spent in the criminal world ("Archer Vice"), a universe ("Archer: Dreamland") and an "Alien"-inspired futuristic space station ("Archer: 1999"). Amber Nash as Pam Poovey is a particular grossout highlight as the most sexually voracious and bizarre member of the cast, followed closely by Judy Greer's Cheryl Tunt and then by Benjamin's Sterling Archer himself.
Inside Amy Schumer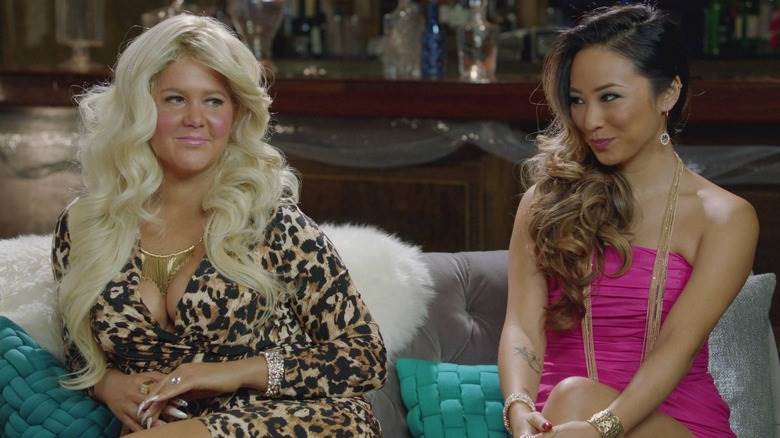 "Inside Amy Schumer" is one of the few live-action shows that, like fellow sketch program "Kroll Show," puts its focus on the embarrassing and hilarious aspects of dating and sex. Breakups, makeups, mishaps, and a dizzying array of sex acts abound with seemingly nothing off limits. Like "Big Mouth," the show's not afraid to try new formats, and might go from a raunchy dating story to a music video to any one of a number alternatives in a single episode. In one sketch, Amy overhears her boyfriend of seven years saying he's not really into her — causing her to leap angrily out of the birthday cake she's hiding in and cause a huge scene. Another episode, in Season 3, is one long twist on the play "12 Angry Men" as a jury of men try to determine if Amy is attractive enough to be on TV. 
Most intriguingly of all, almost every episode ends with a revealing interview with a person Amy finds interesting. These chat subjects include models, trans women, a 6-year-old boy, sex workers, and others who answer her questions as honestly as they can, putting a new twist on the sketch-show format. Amy's compassion can be a little hard to read, and she's made some problematic mistakes over the course of the show, but these interviews go a long way in establishing her not just as an interesting person in her own right, but a talented and hilariously quick interviewer.
Daria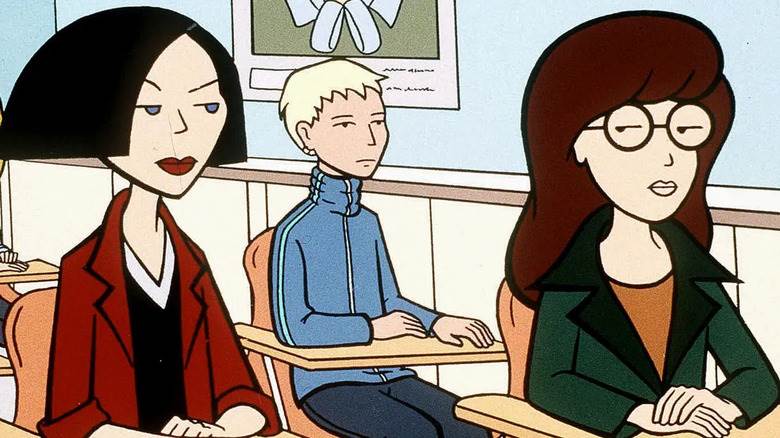 Without we might wonder if there would be a "Big Mouth" at all, frankly. Its influence has been crucial to plenty of major adult-leaning animated shows that've come out since. And while "Bojack Horseman" evokes the historical 1990s in its stories, "Daria" was there, recording and commenting on the times as they happened. Daria developed out of a side character who originally went to school with Beavis and Butt-Head. The show picks up after she moves to the American suburb of Lawndale and hooks up with a new best friend, Jane Lane. 
"Daria" is political and feminist, both in a very '90s way, and finds time among the one-liners and zings to make some real stop-and-stare points. Characters deal with gender roles, race, consumerism, and intergenerational conflict. Best of all, the show can't help but look sympathetically at even its most unlikeable or unknowable characters, regularly surprising you with revelations such as vapid blonde cheerleader Brittany's tactical genius in the paintball episode "The Daria Hunter."  
There are five seasons of 13 episodes each, and two films. The films aired before and after Season 5, detailing the summer before and the very end of senior year. What sets this run of episodes apart — from the first movie "Is It Fall Yet?" through the fifth season and the series finale "Is It College Yet?" — is the very messy love triangle between Daria, Jane, and boyfriend Tom.
Sex Education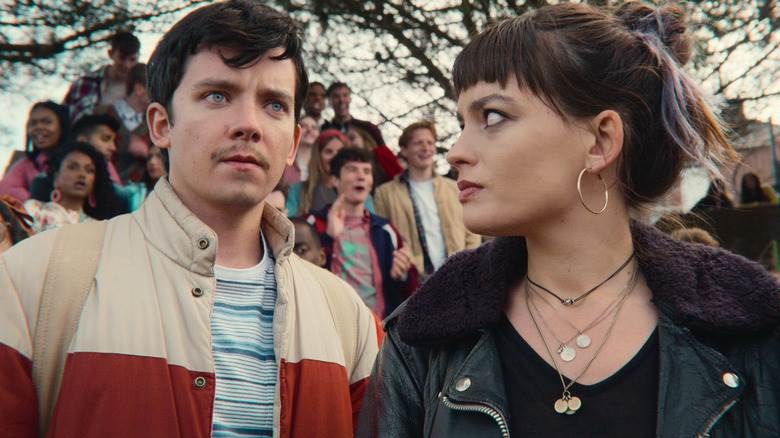 For a glimpse at — as, in "Doctor Who" — fans are checking out the best character on "Sex Education." That would be Eric Effiong, a gay British high school student played by Ncuti Gatwa. In this British dramedy, Eric's best friend Otis Milburn (Asa Butterfield) teams up with Emma Mackey's kid-genius Maeve Wiley to provide sex therapy to their fellow high schoolers, inspired by Otis' famous sex therapist mother Jean (Gillian Anderson). Queerness of every dimension is the rule — just as in "Big Mouth" — as Otis, Eric, and Maeve encounter all manner of sexualities making their way through the overwhelming world of young adulthood. Like "Big Mouth," "Sex Education" keeps its focus on the messy intersection of sex and the rest of life: friendship, love, parent-child and teacher-student dynamics are all shown to be just as difficult to master and understand as the sex that gives the show its title.
PEN15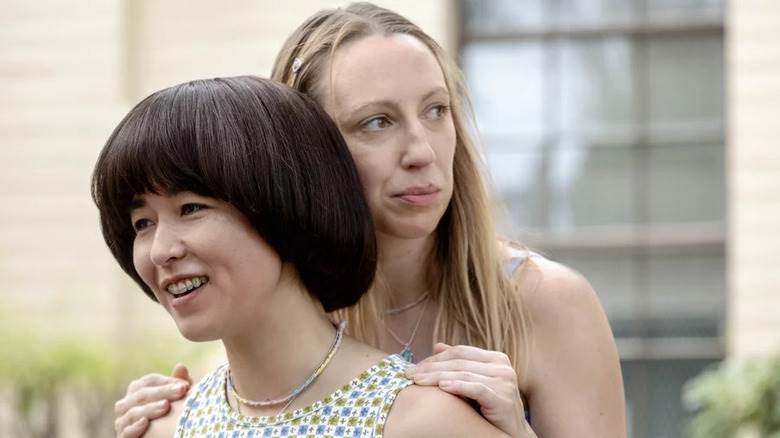 And last but not least, Hulu's "PEN15" is as close to a live-action "Big Mouth" as you're going to get, if we're being honest. Created by Maya Erskine, Anna Konkle, and Sam Zvibleman, this comedy stars Erskine and Konkle — who were both 31 when the show began — as 13-year-old outcasts Maya and Anna. Playing teens opposite real, raw teen actors creates a cringy tension that doesn't really have any analogs, but never ceases to amaze and delight. 
Where "Big Mouth" often goes out of its way to represent viewpoints and experiences beyond those of its heterosexual cis white male creators, here we get a ground-level view of female teenagerhood from two experts on the subject. The girls go through 25 episodes' worth of teen experiences, from first beers to first kisses, with a frankness you don't often see — about sex and its awkwardness of course, but also the raw emotion that defines so much of our adolescence.